Species Profile
Vancouver Island Beggarticks
Scientific Name: Bidens amplissima
Taxonomy Group: Vascular Plants
Range: British Columbia
Last COSEWIC Assessment: November 2001
Last COSEWIC Designation: Special Concern
SARA Status: Schedule 1, Special Concern
---
Quick Links: | Photo | Description | Distribution and Population | Habitat | Biology | Threats | Protection | National Recovery Program | Documents
Image of Vancouver Island Beggarticks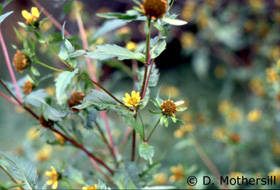 Description
This plant is a herbaceous species which grows to heights of 50-100 cm and often has multiple branches. The "bur-like" flower heads are relatively few and large, and sport yellow ray petals. The stems and inflorescences are glabrous to slightly hairy. The leaves are simple or some deeply three-lobed.
Distribution and Population
Except for a single historical location on a research station in Brandon, Manitoba, the entire global range of the species occurs in the Pacific Northwest of North America. In Canada, it has been found in the Lower Fraser Valley and on southern Vancouver Island, with one additional record on the mainland coast of British Columbia just north of Vancouver Island. Thirty recent (post-1975) and eighteen historical (pre-1975) stations have been reported in Canada. In the USA, there are five newly reported historical stations in Washington State, and there is also the possibility that it occurs in Oregon. Populations of this species are highly variable in numbers of individuals. These numbers fluctuate with annual variations in precipitation, and can range from as few as one plant at a given site, to more than four thousand. No overall population trends have been found.
Habitat
The Vancouver Island Beggarticks is a wetland species found occasionally in successional wetlands, but is generally limited to a very narrow band of habitat around pond, lake and stream margins, areas where annual and seasonal water level fluctuations are the norm. However, it also occurs in tidal zones where it is inundated twice a day, and dries out between tides. It tends to occur in sites where waterfowl are common, and shows a distinct preference for silty alluvial soils.
Biology
The plant is a sun-loving annual species that likely reproduces mainly by self-pollination. Population numbers fluctuate with annual variations in precipitation, and abundance of the plant on a yearly basis appears to be directly tied to winter and spring precipitation levels, with low numbers occurring following drier winters. Mature plants produce prolific numbers of seeds that are well-designed for dispersal, clinging to fur, feathers and clothing.
Threats
The species is limited by the availability of suitable wetland habitat. It requires fluctuating water levels on an annual basis for germination and seed set. The largest and most significant site is unprotected and presently threatened by subdivision development and proposed horticultural use. In addition, park management activities and public use in some of the recreational parks may impact directly on the species. Although these sites are protected from major development, there is no formal protection for the plants.
Protection
Federal Protection
More information about SARA, including how it protects individual species, is available in the
Species at Risk Act: A Guide
.
Provincial and Territorial Protection
To know if this species is protected by provincial or territorial laws, consult the provinces' and territories' websites.
Documents
PLEASE NOTE: Not all COSEWIC reports are currently available on the SARA Public Registry. Most of the reports not yet available are status reports for species assessed by COSEWIC prior to May 2002. Other COSEWIC reports not yet available may include those species assessed as Extinct, Data Deficient or Not at Risk. In the meantime, they are available on request from the COSEWIC Secretariat.
2 record(s) found.
Management Plans
Management Plan for the Vancouver Island Beggarticks (Bidens amplissima) in Canada (2015)

The Minister of the Environment is the competent minister under SARA for the Vancouver Island Beggarticks and has prepared this management plan (Part 1) as per section 65 of SARA. To the extent possible it has been prepared in cooperation with the B.C. Ministry of Environment. SARA section 69 allows the Minister to adopt all or part of an existing plan for the species if it meets the requirements under SARA for the content. The B.C. Ministry of Environment led the development of the attached management plan for the Vancouver Island Beggarticks (Part 2) in cooperation with Environment Canada.
Recovery Document Posting Plans
Environment and Climate Change Canada's Three-Year Recovery Document Posting Plan (2016)

Environment and Climate Change Canada's Three-Year Recovery Document Posting Plan identifies the species for which recovery documents will be posted each fiscal year starting in 2014-2015. Posting this three year plan on the Species at Risk Public Registry is intended to provide transparency to partners, stakeholders, and the public about Environment and Climate Change Canada's plan to develop and post these proposed recovery strategies and management plans. However, both the number of documents and the particular species that are posted in a given year may change slightly due to a variety of circumstances. Last update March 31, 2017
Date modified: