Species Profile
Brook Floater
Scientific Name: Alasmidonta varicosa
Taxonomy Group: Molluscs
Range: New Brunswick, Nova Scotia
Last COSEWIC Assessment: April 2009
Last COSEWIC Designation: Special Concern
SARA Status: Schedule 1, Special Concern
---
Quick Links: | Photo | Description | Habitat | Threats | Protection | National Recovery Program | Documents
Image of Brook Floater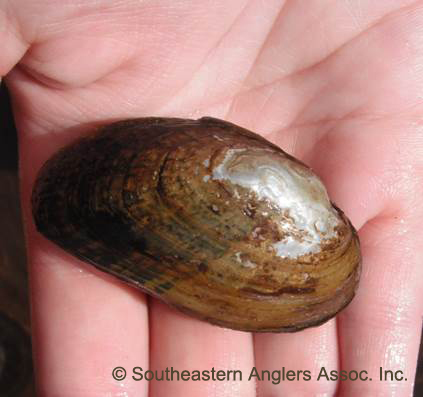 Description
The Brook Floater (Alasmidonta varicosa) is a freshwater mussel native to North America, found from Georgia (United States) to the Maritime provinces. The species is considered a medium-sized mussel. It is distinctly kidney shaped, with one end that is inflated and rounded. The shell is smooth with growth lines forming ridges. The shell exterior varies in colour from yellow-green to brown-black and can be up to 70 mm long, 40 mm high and 30 mm wide. The shell's interior is bluish-white, sometimes with an olive or pink tint. Similar to other freshwater mussels, the species' larvae rely on certain fish species to complete a portion of its life cycle. This means that the larvae attaches to the gills of a host fish and releases when it has grown to the appropriate size. In this way, the brook floater is dispersed into the water.
Habitat
Brook Floaters in Canada are found in rivers, streams, and lakes. They prefer watercourses with a moderate to high water flow with rocks, cobble and sand-pocket areas and may also be found in certain lakes in Nova Scotia. They are typically found clustered in sand-pocket areas behind boulders and stream banks, likely as a means of protection in high-flow velocity. In Canada, the Brook Floater is only found in New Brunswick and Nova Scotia. Because this mussel has disappeared from approximately half of its locations in the United States, the Canadian population now represents an important global stronghold for the species.
Threats
The Brook Floater's habitat is subject to impacts such as changes in water quality resulting from excess nutrients or contaminants from forestry and agriculture runoff into watercourses, shoreline development, sedimentation in watercourses, and disturbance of habitat including barriers to migration (dams and culverts) for host fish species.
Protection
Federal Protection
More information about SARA, including how it protects individual species, is available in the
Species at Risk Act: A Guide
.
Provincial and Territorial Protection
To know if this species is protected by provincial or territorial laws, consult the provinces' and territories' websites.
Documents
PLEASE NOTE: Not all COSEWIC reports are currently available on the SARA Public Registry. Most of the reports not yet available are status reports for species assessed by COSEWIC prior to May 2002. Other COSEWIC reports not yet available may include those species assessed as Extinct, Data Deficient or Not at Risk. In the meantime, they are available on request from the COSEWIC Secretariat.
9 record(s) found.
COSEWIC Status Reports
COSEWIC Assessment and Status Report on the Brook Floater Alasmidonta varicosa in Canada (2009)

The Brook Floater, Alasmidonta varicosa (Lamarck, 1819), is a medium-sized freshwater mussel (50-65 mm long) with a kidney-shaped shell that is swollen in cross section. The shell is relatively thin, with a small patch of tiny ridges on the posterior edge that run perpendicular to the growth lines, creating a corrugated appearance. It is yellowish, greenish or brownish to black in colour, often with broad dark rays running from the top to the bottom. The Brook Floater has a cantaloupe-coloured foot that can be seen when the valves are still gaping as live individuals are removed from the water.
COSEWIC Assessments
Response Statements
Management Plans
Management Plan for the Brook Floater (Alasmidonta varicosa) in Canada (2016)

The Brook Floater (Alasmidonta varicosa) is a freshwater mussel listed as Special Concern under the Species and Risk Act (SARA) in 2013. This listing triggers the development of a management plan which identifies the measures needed to conserve the species in order to prevent further declines, range loss or worsened status due to human activities. The general prohibitions of SARA do not apply to species of Special Concern, and there is no requirement to identify or protect critical habitat.
Orders
Order Acknowledging Receipt of the Assessments Done Pursuant to Subsection 23(1) of the Act (2012)

His Excellency the Governor General in Council, on the recommendation of the Minister of the Environment, acknowledges receipt, on the making of this Order, of the assessments done pursuant to subsection 23(1) of the Species at Risk Act by the Committee on the Status of Endangered Wildlife in Canada (COSEWIC) with respect to the species set out in the annexed schedule.
COSEWIC Annual Reports
COSEWIC Annual Report - 2009 (2009)

2009 Annual Report to the The Minister of the Environment and the Canadian Endangered Species Conservation Council (CESCC) from the Committee on the Status of Endangered Wildlife in Canada.
Consultation Documents
Recovery Document Posting Plans
Recovery Document Posting Plan - Fisheries and Oceans Canada - Fiscal Year 2016-2017 (2016)

Under the Species at Risk Act (SARA), the competent Minister(s) must prepare a recovery strategy within one year of listing a species on Schedule 1 of SARA as endangered and within two years of listing a species as extirpated or threatened. A management plan must be prepared within three years for a species listed as special concern. Fisheries and Oceans Canada (DFO) is accountable for 111 of the 518 species listed under SARA. As of February 2016, proposed recovery strategies, management plans and action plans for 57 of those species have not yet been posted to the Species at Risk Public Registry. An additional 23 aquatic species have proposed management or action plans coming due in the future. The following outlines the Department's plan for posting proposed documents for 64 species on the Species at Risk Public Registry. The Department has a plan to post recovery strategies for 9 species, management plans for 13 species, and action plans for 42 species over the next year.
Date modified: